This is a brief list of questions and answers about our service. We will be adding new questions to this list and you could help us by suggesting some too. If you're looking for travel related questions, we recommend you to check the Cuba Travel Faq website, which will be operational soon.
1. Are the casas of your association fully licensed?
Yes, you should not worry about it. In every casa, you will be able to see the logo:

which means it's a licensed casa particular.
2. Why aren't you publishing the casa addresses in the website ?
Due to current laws, we can not publish the addresses of the casas in our website. But we have found a workaround, we can send them to you by email! This option is available in every casa particular information page.
Please, there is no need to send us an email requesting a casa address as there is a possibility to do so automatically in the info page of every casa.
3. How do you handle the payments? Can we use credit cards?
Payments are generally in cash and payable directly to the casa landlords, either at the beginning of your stay or at the end. A downpayment will be required in just a few cases depending on several factors like high season, number of rooms booked, stay length, casa popularity, etc.
Anyway, here you can get cash at any bank with a credit card as long as the credit card hasn't been issued by an American bank. You can also get cash with travellers cheques as most of them are accepted in Cuba.
You must also be aware that in Cuba there are two different currencies: the Cuban peso and the Cuban Convertible Peso (CUC). It's very unlikely that you will have to exchange money into cuban pesos as most of the stores accept the convertible peso.
The US dollar is not longer accepted because of a law approved on November, 2004. Read more and see the exchange rates here http://www.bc.gov.cu/English/home.asp
4. Will sheets and towels be provided in the casas?
Yes, it's like in a hotel room, not only sheets and towels but soap and toilet paper as well.
5. Can you pick us up at the airport to take us to the casa?
We offer a welcome service currently only at Havana airport. A member of our staff will be waiting for you holding a sign with your name. You will be then taking an official airport taxi to the casa. The taxi cost around $25 CUC depending on the kind of car and the location of the casa in Havana. The trip to Playas del Este (Beaches at the East of Havana) is usually around $35 CUC.
If, later in your trip, you need a driver which is also a guide, try this site
6. What kind of help can we get from you once we arrive? Can you help us to arrange accommodation in other cities?
A member of our staff will contact you shortly after your arrival and will assist you with any doubts, questions, sightseeing recommendations and advice on where to eat, how to get around, etc. He will also help you plan the rest of your trip and arrange other casa accommodations for you along your journey.
7. What if we prefer to stay in hotels or other kind of accommodations ?
That's ok for us, staying in hotels is also a good choice. We can also help you arrange hotels once you're here.
8. Do you have any maps that could help us locate the places mentioned in the description of the casas listed here?
We have a workable Havana street map at www.cubatravelmaps.com and planning to extend it to other cities. You can also find other Cuba maps in the website. Here is a small map of Havana for quick orientation.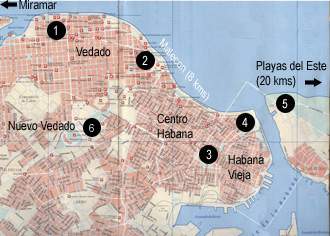 1. West Vedado area where the Melia Cohiba and Riviera hotels are located and some night clubs such as Havana Café and Jazz Cafe. We're based in this area.
2. East Vedado where the National and Habana Libre hotels are located and night clubs such as La Zorra y el Cuervo, El Gato Tuerto, El Parisien, among others.
3. Centro Habana borders with Habana Vieja where the Capitol, Inglaterra hotel and Parque Central (see a map of this area here) are located.
4. Castillo de la Punta area where Prado Avenue starts. The Malecón also starts here, extending along the coast 8 kms west.
5. Castle of Morro, at the other side of the bay, is accessible through the Havana Tunnel (under Havana Bay), which leads to the beaches at the East of La Habana.
6. Revolution Square area where most government buildings are located and also the National Library and National Bus terminal (see a map of this area here)